JBN Creators Pvt Ltd provides Word Press Development services that serve you with low coding and high-quality website. Word Press website will give you have user-friendly access. You can start a business or expand your sales by using Word Press development. So here is JBN Creators Pvt Ltd to serve you at a reasonable price.
Word Press is one of the simplest platforms used to design a website or a blog. To give you concise information on Word Press, it is one of the software created for all that focuses on accessibility, reliability, safety, performance, and a seamless application.
It works with a set up that has your attention on your own story, product, or services. The Word Press software is easy and expected so that it is simple for you to lay the foundation brick. It is available in several plugins and themes so that you can play with it till you find the one suitable as per your preference.
How is Word Press beneficial?
Easy to Use:
As a Word Press website development services provider, we would like to inform you that it is a user-friendly way to put across your information with the right knowledge you won't have a tough time getting hands-on functionality. A Word Press website can be installed and set up in a couple of minutes without any complications.
You require a domain name and a web hosting account to access Word Press. It can be installed for free via Word Press hosting provider or uploaded straight away from WordPress.org. You will get right to use the dashboard available with all the features used to tailor/customize headings and layouts.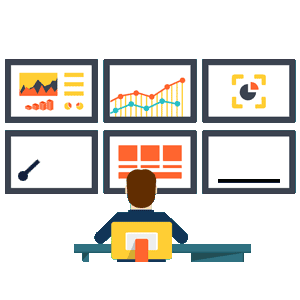 Easy To Modify
Word Press has numerous themes to choose from that can provide that oomph to your website and match with the visuals that you have anticipated. There is an ideal theme for everybody, be it any business such as a business site, a blog, or an online store.
Word press themes are changed as they come with their own set of options that permit you to select colors, modify the background, design sliders, and so much more that too without engrossing in coding. When you get your website done from a Word Press development company, we attach it to advanced features such as contact forms, analytics, and console. Just like themes, there is a plug-in for all different things available on your site that makes your website even more advanced.
Google also recommends Word Press Websites
Word Press is written by using a normal compliance high-quality code and creates semantic mark-up. In easy terms, it makes Google recommend Word Press websites. This is one of the reasons why Word Press sites are trending; they rank higher than others in search engines.
They are also ranked higher as they are updated daily and also as it comes with several tools and plugins that can be utilized for search engine optimization. As an experienced Word Press development company, we know which plugin to utilize for a maximum level of optimization so you can count on us without any doubt.
Word Press and Web Development
Word Press Development provides opportunities to several large and small companies to update, edit, change or alter the content present on their website in the most appropriate way. If you are looking for a backend system that allows expandability, customization, and flexibility, Word Press is the best option to run your website. If you want to have your own Word Press website, you can hire a Word Press development company to manage it all for you.
Built-in Blog characteristic
As Word Press is software that manages content, it has several features that make publishing content stress-free. One such feature is a built-in blog is that can be accessed from any device that too at any time. It makes sure that the users who want to add a blog to their website don't have to make one separately. This leads to a possibility for sites that have no link to blogging to use this feature for adding updates or making any statement. If you are looking for a trustworthy Word Press Development Company that can manage everything for you then all you require to do is get in touch with us and we will manage the rest for you.
JBN Creators Pvt Ltd is the leading web development company in the vast filed of IT, providing service oriented solution in terms of building custom tourism website. Since internet has become an extremely convenient tool for the users to access information, it is important for the travel and tourism company to own custom website for smart and smooth communication with the clients. We, JBN Creators Pvt Ltd, are fully dedicated to build cut-edge website at a marketable price.
Our dedicated designers make use of superb visual graphics coupled with stunning flash effect to draw the attention of the target audience. Applying modern design technology, we make sure adding striking 3D effects, animation and other graphic elements to increase your USP.
We build product specific tourism website to make sure smart promotion of the holiday package on your portal. By incorporating call to action button, we allow you to further exemplify the benefit of your products and package. The entire service comes in the most professional manner. After the completion of the project we make sure revising the portal for an umpteenth time to figure out the errors that calls for immediate correction.
We value our client and his investment and we make sure the delivery before the specific time. Even after the delivery, if you want any changes, you are always welcome to seek our services. In the long run it is your success.
Description:
Our Word Press web development company shall make sure that there is a balance between seamless website operations and cost-effectiveness. Our team of expert Word Press programmers has years of experience in delivering stimulated and remunerative Word Press website development services.